Acne And Scar Treatment Park Ridge
Scarring from facial acne can be effectively treated using both the Dermapen ™ and Environ ™ medical skin needling devices.
Skin needling also known as Collagen Induction Therapy (CIT) is the gold standard for non-laser scar revision and autologous skin rejuvenation.
For clients who are concerned with textural irregularities, post acne / surgical scarring or skin laxity and desire to increase collagen and elastin production using a relatively non-invasive treatment with minimal downtime.
Wondering if this treatment is right for you?
If you are currently using prescription medication for acne (Roaccutane™, Accutane™, Oratane™) it is best to wait at least 6 months after taking your last dose. This is due to the thinning effects these drugs can have on the skin all over the body.
Are you currently taking a prescribed blood thinning medication?
Do you have a history of keloid (raised) scarring?
Any of the above can increase risk of adverse side effects.
Skin needling is well tolerated but dryness, scaling, redness and swelling might be present after treatment, lasting for several days or longer, depending on the depth of penetration of the needles.
Sun protection for several weeks is recommended.
In the case of acne scars only gentle cleansers and products should be used after the appointment. By the next day, the face may be cleansed and makeup and non-active products may be applied.
Call Park Ridge Skin Clinic if you would like to book a consultation or if you have any questions.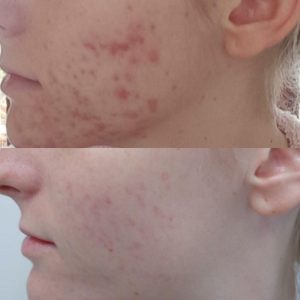 Disclaimer: Results of before and after pictures shown are only an indication of what is achievable. Due to individual variations, actual results may differ from person to person. The information provided on and through this account is not medical advice and should not be relied on.
The information, including but not limited to, text, graphics, images and other material contained on this account are for informational purposes only. All procedures carry associated risks. Please see an appropriate qualified health professional before proceeding. Always seek the advice of your physician or other qualified health care provider with any questions you may have regarding a medical condition or treatment and before undertaking a new health care regimen.